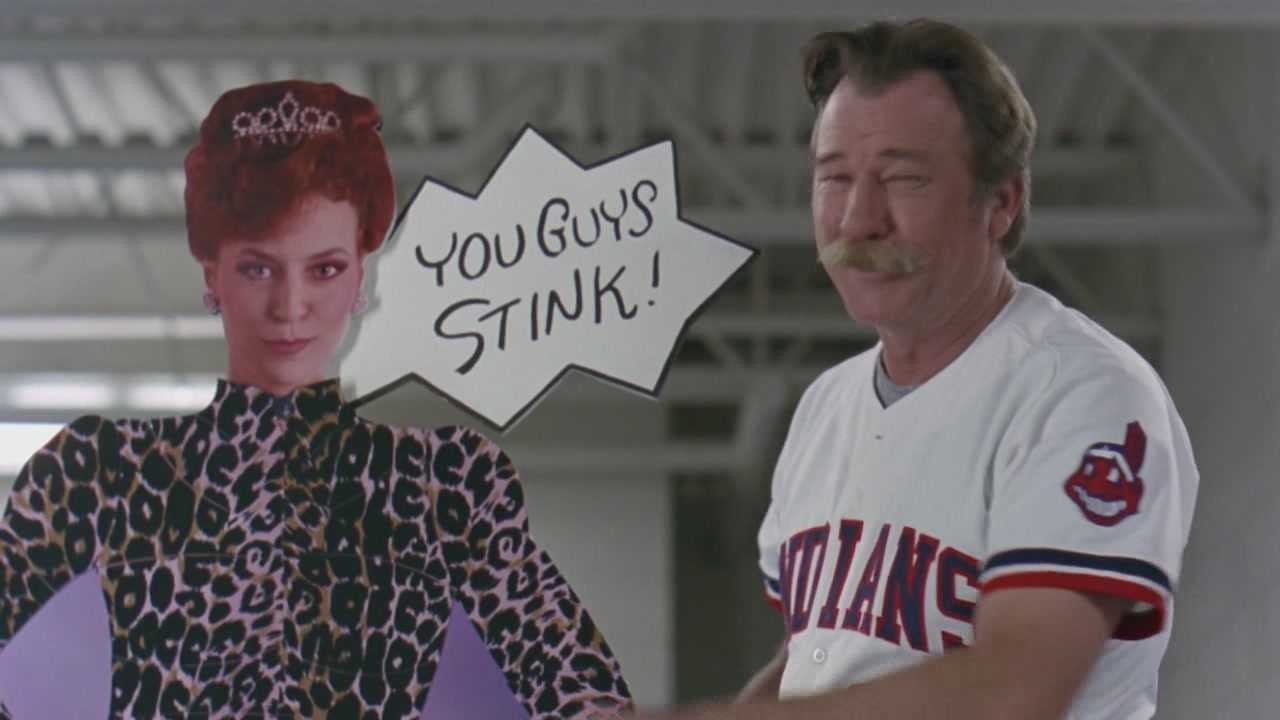 ← Back
My Top 5 Baseball Movies — "Strikeouts are fascist"
Opening Day is upon us and while I have some pretty strong thoughts about the current state of Major League Baseball (MLB) and its Commissioner, I am still incredibly excited for the upcoming season and very emotionally invested in how the Toronto Blue Jays will do.
The sounds of the game are synonymous with summer for me as is going to the movies. So it's only natural I pair these two and mark the start of the 2021 MLB season with my Top 5 favourite as there's a drive into deep left field by Castellanos and that'll be a home run.
#5. Angels in the Outfield (1994)
If you're a child of the '90s like me, you'll probably have fond memories of this movie. It was (and remains) a great family-friendly movie about a boy who prays that the California Angels, as they were then named, would win the pennant and begins to see angels at the ballpark answering his prayer by helping the players.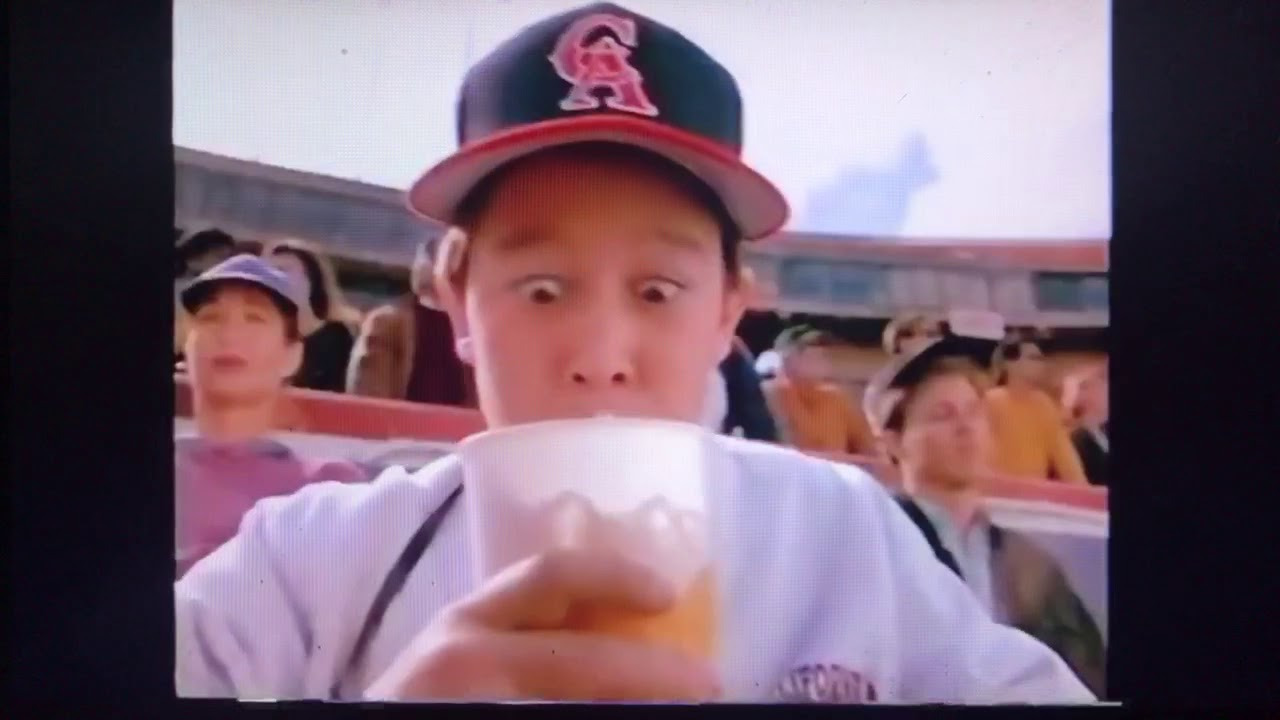 I re-watched this movie a few months ago and was surprised by the heaviness. My recollection of Angels in the Outfield were the comedic bits -- particularly the scenes with the two kids and David (Taylor Negron), the Angels' team assistant -- and of course, Gordon-Levitt waving his arms. I forgot about the fact that Roger (Gordon-Levitt) is living in a short-term care foster home and the reason he prays for the Angels to win was because his father flippantly told him that they could be a family again when the Angels won the pennant. I forgot about J.P. (Milton Davis Jr.) not being able to ride in a car because it brings back memories of having to live in one with his mother. And I forgot about the sadness associated with Miguel (Jonathan Proby) being placed in a foster home and leaving Roger, J.P., and Maggie (Brenda Fricker) behind.
Watching movies from your childhood is a double-edged sword. A lot of the time you grow up and realise a movie you loved so much actually kind of sucked. But other times, as with Angels in the Outfield, you realise that there was a lot more going on in this movie that you didn't fully process as a kid.
Angels in the Outfield is a really fun baseball movie for kids with fine performances from Gordon-Levitt and Fricker, and of course, Danny Glover and Christopher Lloyd (also look out for a young Adrien Brody and Matthew McConaughey). But there's also a lot of heart and depth to this movie that children's movies deserve to have.
#4. The Bingo Long Traveling All-Stars & Motor Kings (1976)
My most recent discovery on this list and ironically, the oldest film on this list. I first became aware of and watched Bingo Long late last year during a virtual watch party with some baseball loving internet friends, and I absolutely loved it.
For as many baseball movies that have been made in Hollywood, relatively few have focused on the Negro Leagues. A couple movies have been made about Jackie Robinson, including The Jackie Robinson Story (1950) starring the man himself, and 42 (2013) lead by the late Chadwick Boseman. There was also a TV movie called Soul of the Game (1996) about the competition between Satchel Paige (Delroy Lindo) and Josh Gibson (Mykelti Williamson) to be the first Black baseball player to join MLB. But that's about it.
There are many reasons we can hypothesize about why there are so few movies about the Negro League, but a lack of story is not one of them.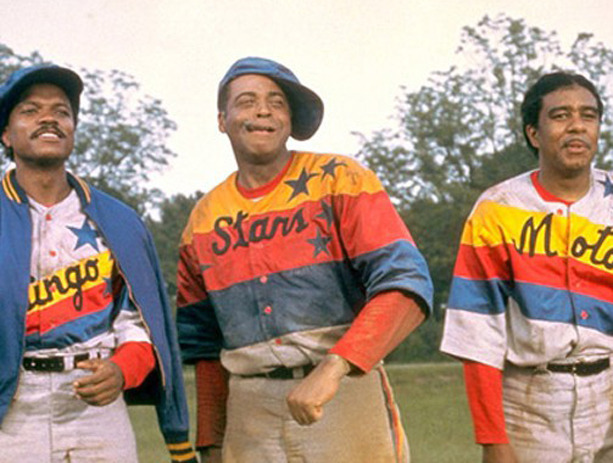 Bingo Long is a funny and heartwarming movie about a group of former Negro League players looking to get out from under the White ownership of their teams and form a new league of their own. Billy Dee Williams, James Earl Jones, and Richard Pryor lead the way and while none of the characters are named specifically after actual Negro League players, the stories and personalities of Paige, Gibson, Robinson, and Willie Mays are evident throughout.
The most poignant moment for me is the ending of this film when the Jackie Robinson-inspired Esquire Joe (Stan Shaw) is given an opportunity to break the colour barrier. Leon (Jones), a veteran catcher of the Negro Leagues, while understanding the importance is nevertheless sullen at this prospect realising that by desegregating MLB, the end of the Negro Leagues is imminent.
Rather ignorantly and naively, I never considered the downside of Robinson breaking the colour barrier. Of course ending segregation was necessary, but it did indeed spell the end of the Negro Leagues. And while the Negro Leagues were created as a response to abhorrent racially motivated laws, there was, I'm sure, a deep sense of community among the players.
I've painted Bingo Long with a rather serious brush here, but trust me it is a fun movie (Richard Pryor is in it after all) that is well worth a watch if you're a baseball fan or not.
#3. Bull Durham (1988)
So funny thing — while writing this, I clicked onto Bull Durham's Wikipedia page and noticed that someone started the article with: "Bull Durham is a 1988 American romantic comedy sports film." Emphasis on "romantic comedy" is my own because it really baffles me that Bull Durham is being labelled by anyone who has watched as a romantic comedy.
I'm probably biased and my own distaste for rom-coms is just on display here, but I just don't see that aspect to the movie beyond the fact that there is a love story. It isn't the focal point of the movie though, which to me is what makes a rom-com a rom-com.
But I digress...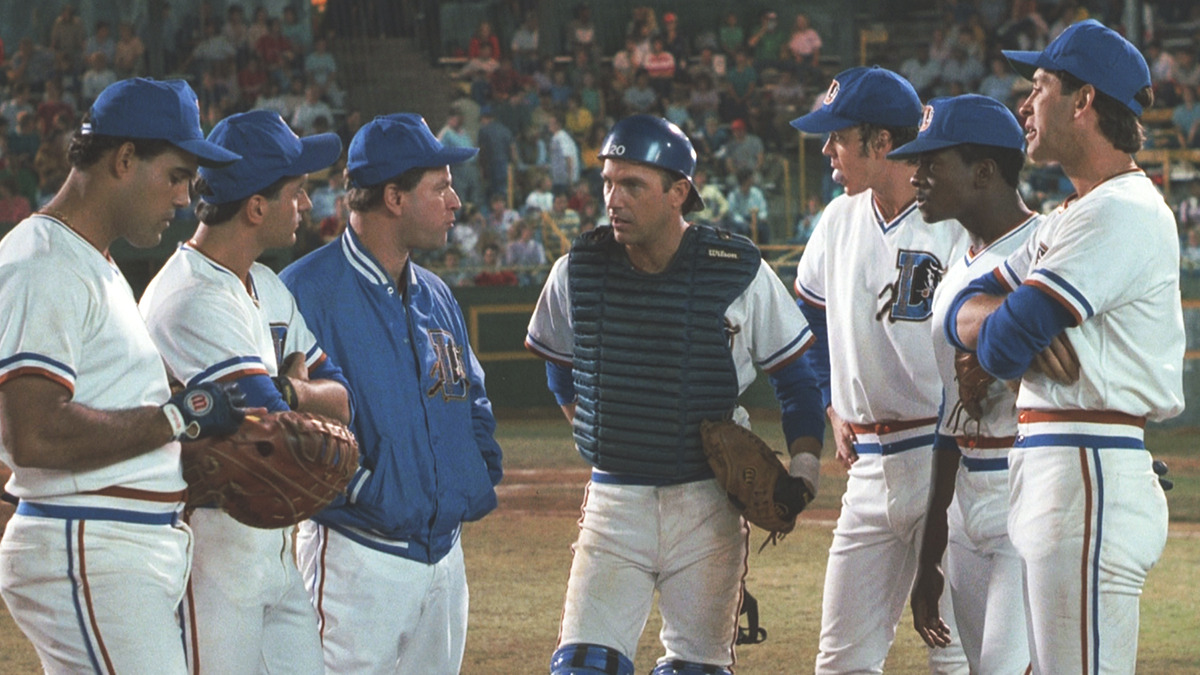 "Crash" Davis (Kevin Costner) is a veteran minor league player whose time playing ball is coming to an end. He's asked to join the single-A Durham Bulls team to help mentor up and coming pitching talent, "Nuke" Laloosh (Tim Robbins). Along with the help of Annie (Susan Sarandon), a professional baseball groupie, Crash helps Nuke harness his natural talents for a shot at making it to The Show.
Bull Durham is a real baseball lover's movie. A lot of the hilarious moments are inside baseball (had to be done) and its exploration into mortality is stunning and visceral. The tension between Crash heading towards the end of his career after working his tail off, and Nuke, cocky, brash, taking his immense talents for granted and just beginning his career is played beautifully by Costner and Robbins.
It's long been said that the best sports movies aren't actually about sports. Bull Durham exemplifies this to a T.
Note: I really couldn't pick between these last two movies. An accurate assessment would be that A League of Their Own is #1 on my "best of" list, and Major League is #1 on my "favourites" list (with the other movie being the #2 of course). So I'm going to call it a draw.
#T-1. A League of Their Own (1992)
A League of Their Own is a fictionalized telling of the All-American Girls Professional Baseball League — a women's professional baseball league that was created to fill the void as a result of WWII. An all-star cast of amazing '90s talent was assembled with Penny Marshall at the helm, including Tom Hanks, Geena Davis, Lori Petty, Madonna, and Rosie O'Donnell.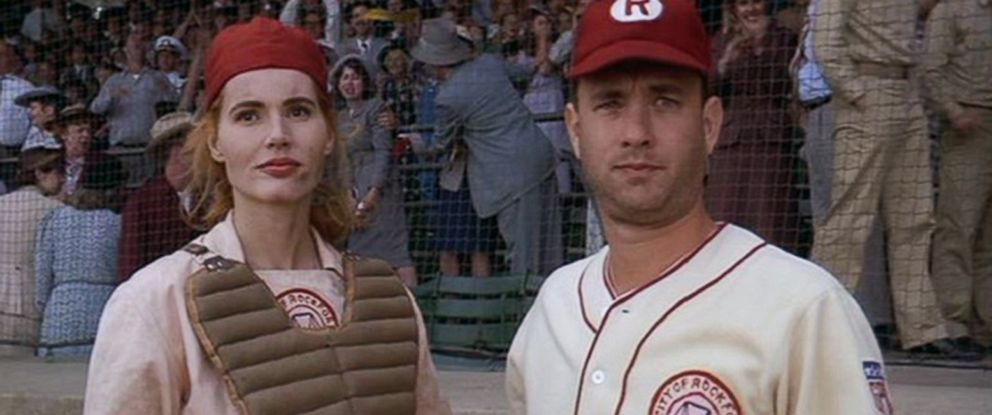 This is probably my favourite Tom Hanks performance. A big statement, I know. But when do we ever get a chance to see Hanks play an alcoholic misogynist? In the way that I think only Tom Hanks can, he gives Jimmy Dugan a lot of heart and humour. His chemistry with Geena Davis is incredible, her quiet demeanour and class shine loudly in contrast to Hanks' crass behaviour.
Movies like A League of Their Own and Bingo Long are important because they give a glimpse of parts of baseball's history that many are unaware of, ignore, or judge unfairly. Both movies touch on the difficulties and challenges female and Black athletes faced during the time these movies were set, but they also showcase the joy and love they shared. For me, both are important to highlight.
Even if you aren't a baseball fan, this is an incredibly touching, funny, and charming movie with Tom Hanks at his best.
#T-1. Major League (1989)
I'll put my hands up and say that there's a good chance a lot of the comedy in Major League isn't considered appropriate in our current social climate, but I'll leave that judgment to you.
For me personally, Major League is an all-time comedy. It's a mix of cornball jokes, physical gags, misdirection, cultural misunderstandings. It's insanely quotable and has some iconic moments -- Wild Thing, anyone?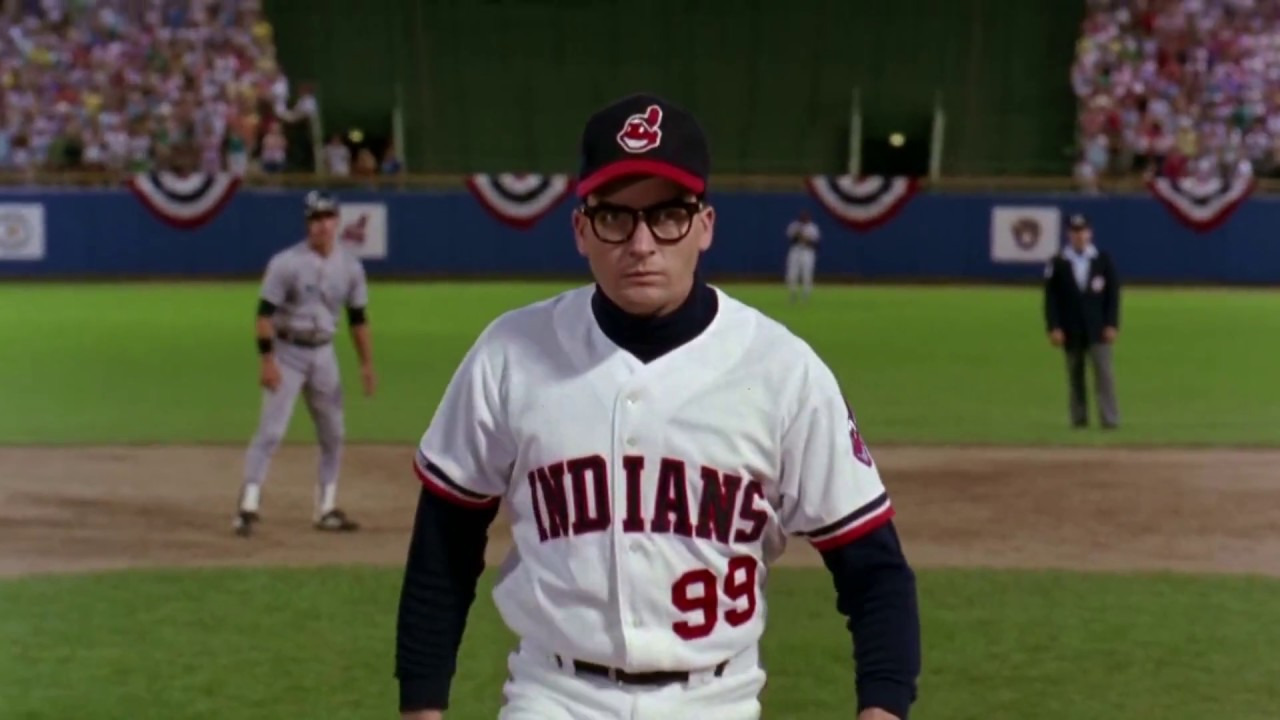 I could write pages upon pages about Major League -- breaking down my favourite scenes (Willie Mays Hayes (Wesley Snipes) waking up next to the diamond), lines ("You trying to say Jesus Christ can't hurt a curveball?"), and schticks (the die hard fans in centre). It's a movie that I can watch a thousand times over and it will leave me in stitches each time.
Snipes and Rene Russo were relative unknowns at the time and it's not hard to see why they both skyrocketed to fame after this movie. Snipes is a natural at comedy and it's a shame he didn't pursue this more, although I did love him in Blade (1996). Russo plays the prototypical '90s girl -- cool, sexy, strong -- with all the warmth and charm in the world. And Charlie Sheen, while he's had a pretty massive fall from grace, there was a time that he was at the top of the comedy world and his performance in Major League is nothing short of ingenious hilarity.
Maybe Major League has been on your to-watch list for ages -- do yourself a favour and watch it so that you can "cross [it] off then".
*****